The iPhone 15's expected move to USB-C this year may motivate a large number of Android users to switch phones, according to a survey by SellCell.

SellCell asked more than 1,000 iPhone users and more than 1,000 Android users in the US to collect its data. Among current iPhone users surveyed, 63% said Apple's move to a USB-C charging port would influence their decision to upgrade to the iPhone 15.
Among those who would be excited to buy because of USB-C, the majority (37%) of iPhone users said they would upgrade because they would be able to use a single charging cable for their iPhone, Mac, and iPad. Overall, 66% of iPhone users said they would upgrade to the iPhone 15.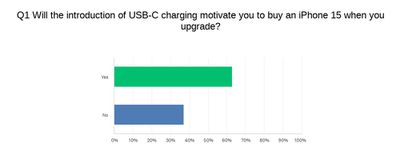 iPhone owners' responses when asked if they'll upgrade to iPhone 15
Perhaps the most surprising finding of the survey was how many Android users were intrigued by Apple's much-rumored shift to the charging standard: 44% of current Android owners surveyed said they would be inclined to buy the iPhone 15 if Apple adopted the device's USB-C port. In the same group, 35% said their motivation stemmed from the fact that the iPhone would become compatible with chargers for non-Apple devices.
Among the pool of existing Android fans, overall, 66% said they wouldn't buy the iPhone 15, and 34% said they would likely upgrade to the iPhone 15.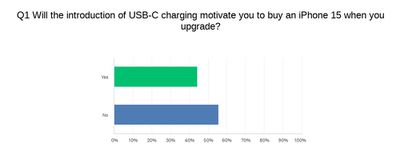 Responses of Android owners when asked if they would be tempted to upgrade to USB-C iPhone 15
Apple has had the Lightning port on the ‌iPhone‌ for over 10 years. The company's charging port was introduced in September 2012 with the iPhone 5, but in recent years all of Apple's Macs and iPads have migrated to the more popular USB-C charging standard. Apple's expected decision to switch the iPhone to USB-C this year has been facilitated by pressure to comply with new regulations implemented in Europe for all consumer mobile devices and laptops to use the universal charging standard.
Apple is expected to unveil the new iPhone 15 lineup at the "Wonderlust" event scheduled for September 12, along with the Apple Watch Series 9 and the second generation Apple Watch Ultra, among other potential new products.
popular stories
iPhone 15 Pro is expected to launch next week with these 12 new features
Apple is expected to unveil four new iPhone 15 models at its event on Tuesday, September 12th, and the devices will likely be available for pre-order starting Friday, September 15th. All four models are rumored to have a USB-C port. and Dynamic Island, while many additional features are expected in the Pro models, including a titanium frame, a customizable action button, the A17 Bionic chip, …
A "significant price hike" for the iPhone 15 Pro models is once again rumored
The iPhone 15 Pro and iPhone 15 Pro Max could see a "significant price hike" compared to their predecessors, according to DigiTimes senior analyst Luke Lin. While the iPhone 15 and 15 Plus are expected to maintain their prices similar to the current models, the Pro models could see significant cost adjustments due to their new titanium body and periscope camera technology in the larger model. …
Top stories: Announcing the Apple iPhone 15 event, new Apple Watches, AirPods USB-C headphones, and more
Apple's biggest event of the year has finally been confirmed, and we're looking forward to new iPhones, Apple Watch models, and more. In the run-up to the event, we keep hearing more tidbits about what to expect for the new flagship devices, as well as some other small announcements that Apple may have in store, so read on for all the details! Apple announces 'Wonderlust' event
What not to expect at Apple's "Wonderlust" event on September 12th
Apple's annual fall event takes place on Tuesday, September 12, where it's expected to unveil the new iPhone 15 and iPhone 15 Pro lineup, Apple Watch Series 9, and the second-generation Apple Watch Ultra. It may also provide some additional new products, but there are a few rumored upcoming devices that we don't expect to show up this month. To help set expectations…
Here are all the iPhone 15 colors we've come to expect from Apple
Apple will unveil the new iPhone 15 lineup in a host of new colors at a special event likely to take place on September 12th. Here are all the colors we can expect to see for the four models: iPhone 15, iPhone 15 Plus, iPhone 15 Pro, and iPhone 15 Pro Max. iPhone 15 and iPhone 15 Plus In the past few years, ‌iPhone‌ lineups have been launched in just five color options, followed by the sixth color…
Apple will release its "low-cost" MacBook series next year to rival Chromebooks
Apple is developing a lower-cost MacBook series to compete with Chromebook models in the education sector that could be launched as early as the second half of 2024, according to a new report from Taiwan. Photo by Wes Hicks on Unsplash According to industry sources at DigiTimes, Apple will likely launch the new product line to differentiate it from the company's existing MacBook Air and Pro lines.
How much will iPhone 15 cost?
Apple's new iPhone 15 and iPhone 15 Pro models will be unveiled at the company's annual September event, which will be held this year on Tuesday, September 12. The question is, how much will it cost? iPhone 15 and iPhone 15 Plus Like last year's iPhone 14 and iPhone 14 Plus models, the iPhone 15 will be a 6.1-inch device, while the larger iPhone 15 Plus will be 6.7 inches. we…
A future "iPhone Ultra" model can take spatial photos and videos for the Vision Pro headset
A future "iPhone Ultra" model can take spatial photos and videos to be displayed in Apple's Vision Pro headset, according to a rumor shared by a Weibo account with a track record of revealing accurate information about Apple's plans. It is said that the camera configuration of the future "iPhone Ultra" model released after the launch of the Vision Pro headset "will lead the market to…
(tags for translation)iPhone 15