She Kills to Be Kind: Ecologist Masterminds Eliminates Invasive Predators | Wildlife
IIn the middle of the night, nine-year-old Elizabeth Bell runs through the narrow bush tracks on Maud Island, racing towards the nearest ridgeline. The darkness behind her is almost complete. There's no ocean glow from distant city street lights: the island is a 1.2 square mile (3.2 km2) uninhabited spot covered in forest, off the northern tip of New Zealand's South Island.
Somewhere out there, in the dark of one o'clock in the morning, on paths surrounding the dense, tangled native forest, her brothers are running too, running toward the other headlands. They hear a distant, resonant, low boom, like the pulse of a drum or the buzzing of a telephone on a hard table.
The boom is the mating call of the kakapo, one of New Zealand's rarest birds. Its rarity is enough to send the entire Belle family scrambling out of bed in the midnight hours. Belle and her siblings scatter across the island's high points, teaming up with their father, Brian, an environmental activist and island ranger. They each turn on a radio transmitter and listen for an audio signal indicating a nearby kākāpō, to track nesting areas.
"Some people would say it was a very unusual childhood," Bell says now, decades later, as she drives a truck toward a nature reserve in New Zealand's Upper South Island. "But that's just what we did."
This was the proving ground for Elizabeth "Biz" Bell: a place and a family built around a fierce love of birds that helped turn her into one of the conservation world's biggest mass killers.
Today she is one of the principal architects of a series of ambitious conservation projects from the Caribbean to the Channel Islands. These areas, which are honed in New Zealand and now exported around the world, are called predator-free zones, and their primary tool is die-off: mass trapping or poisoning campaigns to eliminate introduced predators or pests.
By doing so, Bell and her colleagues hope to halt the cascade of extinctions exacerbated by the introduction of predatory or competing species, allowing native and endangered creatures, especially birds, to return and thrive.
In a report released this week, the United Nations warned that invasive species cost the world at least $423 billion annually and have become a major threat to the diversity of life on Earth.
From a small roadside office in Blenheim, Bill heads Wildlife Management International. Its headquarters is nondescript, surrounded by a row of plazas selling gravel and mechanical workshops. Inside, posters of birds and lizards line the walls. A plaque hangs filled with photos of Bell and her team cuddling huge albatrosses, smiling at seabirds, and eyeballing lizards.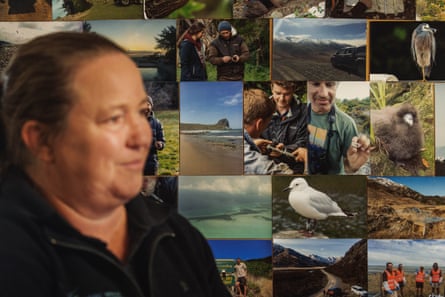 On another wall, a map of the world criss-crossed with lines shows the team's migration journeys to Barbados, Anguilla, the British Channel Islands and the islands off the coast of Ireland. So far, they have been able to eradicate rats, mice, feral cats and rabbits from about 30 islands around the world.
While conservationists have long experimented with culls to reduce predator populations and preserve native species, species eradication projects go further, seeking to completely eliminate introduced predator species from a geographic area. New Zealand's unusually tight demarcation between native and introduced species makes it a natural home for this idea.
The country's islands separated from other land masses so early that they no longer contain native land mammals. Their large and diverse bird populations evolved with few predators, and many have adapted to fill mammalian habitats: large, nocturnal, and flightless. When humans arrived, bringing with them rats, stoats, opossums and rodents, Aotearoa's birds were radically endangered. These predators, combined with human pressures and land conversions, have heralded a new era of mass extinction.
For a long time, Bell says, the idea of ​​restoring pockets of the environment to their pre-existing predatory state was seen as wishful thinking, a bizarre, relentless, even utopian vision for preserving ecological realms that had already slipped away. "Scientists at the time were saying, 'You know, the New Zealand ecosystem is going to balance out the rats, and we're going to get the balance,'" she says.
But New Zealanders have been watching this experiment play out in real time – and it often fails. Bill grew up on the story of Big South Cape, an uninhabited island off the southern coast of New Zealand. With rocky coastlines and devoid of mammals, the island has become a haven for rare local birds. However, in the mid-1950s, rats arrived on the island, decimating the bird population within a few years. Conservationists, including Bill's father, rushed to rescue some of the remaining birds and move them to other islands. But for a number of the island's endemic species, it is too late. It was a "lightbulb moment," Bell says. "We've lost those species in our lifetime… We've watched those species disappear."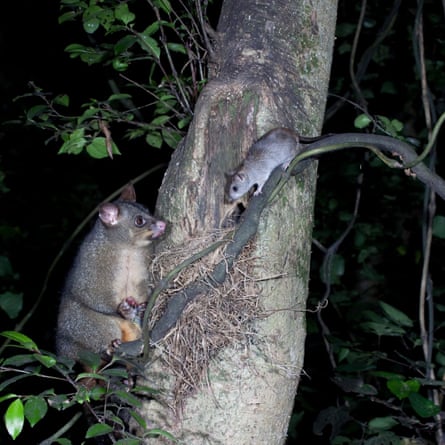 A potential solution came in 1964 when ecologists ran poison through the rocky jungle on Maria Island to rein in the growing rat population. The scheme was much more effective than expected. They returned the following year to discover that they had completely wiped out the local rats.
"It was like – well, if we can do this by accident, let's see how we can do it on purpose," Bell says.
New Zealand now has the world's most radical approach to eradicating predators. In 2016, the government announced "Predator-Free 2050" – a national program that aims to completely eradicate rats, stoats and opossums across the country. So far, this method has only worked on offshore islands and fenced reserves, but it has stimulated the expansion of expertise in trapping and killing furry creatures.
"New Zealand are the world's experts, leading the charge in developing new technology, new tools, new methods," Bell says. This expertise has now become a valuable international export. Visit any eradication project around the world, she says, and you'll usually find a New Zealander involved somewhere: flying a helicopter to drop poisoned bait or demonstrating new forms of humane rodent trapping.
"They get the New Zealanders to kill everything, and then they do the fun stuff themselves," Bill says with a laugh.
In 2002, Bell began overseeing its first set of offshore projects, taking techniques developed in New Zealand and applying them to Lundy, an island off North Devon in the UK. At times, her projects have been controversial: not all countries have clear boundaries between introduced and native species like Belle's habitat, and the decision about what is worth living is difficult to parse. In Lundy, a rat eradication project has been resisted by animal rights groups, who claim that conservationists prefer tourist-friendly birds to rats.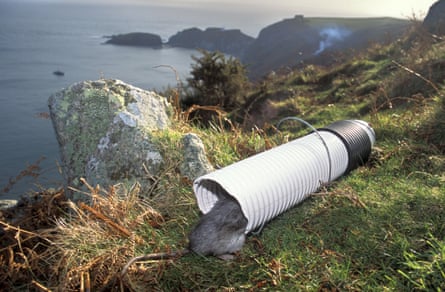 For Bell, the answer is clear: "We're just talking about restoring that balance — between species that were already there."
Proof of the project's overall success has coincided with the return of seabirds. Species that had been winnowed down to a few nesting pairs have returned to breed again, and birds that had disappeared from living memory are beginning to return.
On the island of St Agnes in the Isles of Scilly, an islander recalls seeing a shearling chick. "She was 89 or 90 when we were doing the enucleation, and she remembers seeing a chick when she was very young," Bell says.
"At age 101, she was taken to the colony and saw a chick leaving the burrow," she recalls. "She was completely out of control… watching these birds come and go from that island, and making them come back."
In Lundy, the total number of seabirds tripled after the last mouse was caught in 2006. The number of puffins increased from 13 birds in 2001 to 375 in 2019, and the number of shepherds on Manx rose from 297 pairs to 5,504. Today, there are In Lundy there are thousands of shearling nests – they colonize the cliff tops and island paths, their strange rhythmic cries echoing into the night.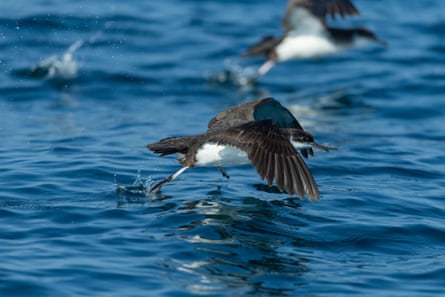 "I was asked then when I would say that the (Lundy) project is a success… I said: when the tourists who stay at the lighthouse complain that the seabirds make them alert."
She and her team had hoped to return to the island to mark the 20th anniversary of its eradication, but were stranded by the Covid pandemic and spent the occasion chatting to conservationists on the phone instead. On a visit to the pub, a worker at the Royal Society for the Protection of Birds said they heard tourists complaining about the noise: "The gush of water keeps them awake."
Find more Age of Extinction coverage here, and follow our biodiversity reporters Phoebe Weston And Patrick Greenfield On Twitter for the latest news and features