Ghana commissions two donated USCG vessels to combat piracy and illegal fishing
The United States remains committed to supporting governments in West Africa in their fight against piracy and other illegal activities in the Gulf of Guinea. In the latest step, the US government donated two USCG aircraft to the Ghana Navy.
Following a significant decline in piracy incidents over the past two years, the Gulf of Guinea is seeing an increase in piracy, including offshore activities and a move to new areas such as the coast of Ghana and neighboring Côte d'Ivoire. The International Maritime Bureau (IMB) announced five piracy incidents in the first quarter and nine in the second quarter of this year. Of the 14 cases, 12 were classified as armed robberies, including those at Marsa in Ghana, and two were classified as acts of piracy in the Gulf.
The donation process for the two vessels, Protector-class patrol boats built by Bollinger Shipyards, began in 2020 and included crew training and sea trials in Ghanaian waters. With a maximum speed of 25 knots, the ships can accommodate a crew of 12 and can remain at sea for about three days. They are designated as GNS Faido And GNS General.
The Ghana Navy will deploy two former US Coast Guard aircraft to increase patrols on the high seas, contributing to the security of the Gulf of Guinea. In particular, the ships will help prevent pirates, traffickers and other criminals from using the sea for illegal activities.
Aside from piracy, the Ghana Navy will also use the boats to tackle illegal fishing which threatens the country's fishing industry due to the unprecedented increase in international fishing vessels operating off the coast of Ghana. Research has shown that Ghana's fisheries account for more than two-thirds of the country's fish production for food and employ or support up to two million people. However, many fish stocks are on the verge of collapse due to over-exploitation, especially stocks such as sardinella which are a staple food for Ghanaians.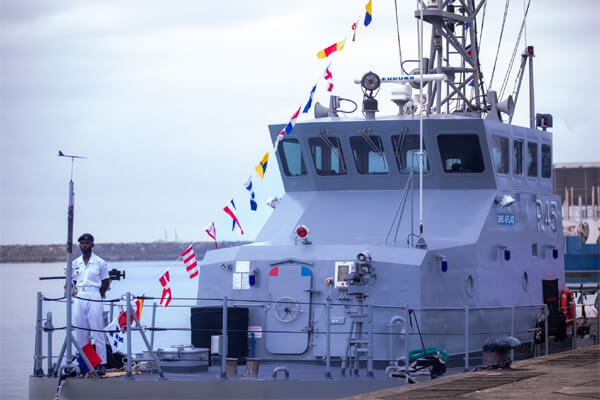 The ships arrived in Ghana in June and were commissioned last week (Ghana Navy)
"Piracy and illegal fishing pose an ongoing threat to Ghana's prosperity," Virginia Palmer, US Ambassador to Ghana, said at a warship commissioning ceremony at the naval base in Sekondi on September 9. "These 86-foot ships will help the Ghana Navy increase patrols to counter these threats," she added.
Last month, Ambassador Palmer also announced that the United States would provide an additional $6 million to build, equip and train Ghana's navy. This amount is part of a broader $24 million the United States is providing over five years to assist Ghana's Ministry of Fisheries and Aquaculture. It will be used to install electronic monitoring systems on fishing vessels licensed to fish in Ghana and to designate marine protected areas that restrict fishing and other activities to protect fragile ecosystems and species.
In addition to donating the cutters, the United States is also providing two 38-foot Defender boats to the Ghana Special Boat Squadron within the Ghana Navy along with trailers, spare parts, and training. The United States provides extensive support to West African countries and increased its support for Ghana after China donated four patrol boats to it in October 2017.
(Tags for translation) Ghana