CT Days 13-14 – The Flight
Day 13 – 25.1 miles
The moon is so bright at night, I think someone is shining a light on me.
I "sleep" until the light is out, but it's not dark at all. Here, it is exposed to all celestial bodies that move during the night.
As the air slowly warms, it rises across the ankle, retracing my steps from yesterday evening. I don't seem to have recovered much, for my legs are still burning, and my lungs are still wheezing. But that's okay, today is the day to take my time. I don't plan to go too far. Every breath-taking is an opportunity to be amazed at where I am, where my feet can take me, this unreal piece of land.
I finally made it to the top of the first pass of the day. It's always a pleasure to reveal the point of view on the other side. I drink it like a cold swift wind. This alpine tundra seems untouched. In this valley, except for the planes flying overhead, you can fool yourself into thinking that nothing has ever changed, and nothing will ever change.
I cross an ankle-steep incline on my way to the next lane. It's fun bouldering, until I look up and see how big some of them are, piled precariously on top of each other, balancing right on top of my head. I try not to think about it, until I'm back on the hard ground.
On the next soul crushing pass. Go back up the slope, approach him obliquely, and never look him in the eye. At the top, reveal the next world. More golden mountains, as far as the eye can see.
Seems like it's going to take a long time to get to the bottom, but I finally get to fill up with water from Chalk Creek. I look at the map, and I still have a lot more going up in the day than I thought. I say a little prayer for a second wind.
Maybe asking things out loud might work, because I'm making quick work of my next climb. It feels good to be in the shade of the trees. The back of my hand is sunburnt, as are my lips and cheeks.
I got to the top, where the table was green and wildflowers which I had never seen before.

Soon after comes the descent, and I find myself on what I think is an old railway, for the old planks rising casually from the dirt. It's early, but I'm tired, and I really want to set up camp for the day, but this forest is gray from killing beetles. Dead trees standing, ready to fall in the wind.
I chose a sloping spot very close to the path, carefully assessed the surrounding trees, and decided I felt safe enough to lie there all night.
In the afternoon I fell asleep in an agonizing nap, the kind in which your mind swims and you feel your body freeze in a profound way. I tremble in the shadows. I hear the occasional hiker tapping their poles all the way up the road a meter from my head. I wonder if they see my beige tent, and if they do, what they think.
And suddenly, at about five o'clock in the evening. I hear creaks and moans. A tree fell, and it seemed very close to me in my tent, but at the bottom of the slope. Gravity must have taken it from me.
At this point my mind goes, Absolutely absurd noIn ten minutes I pack up and walk again.
Adrenaline takes me to the top of the valley.
All the way up and through the next pass over Hancock Lake.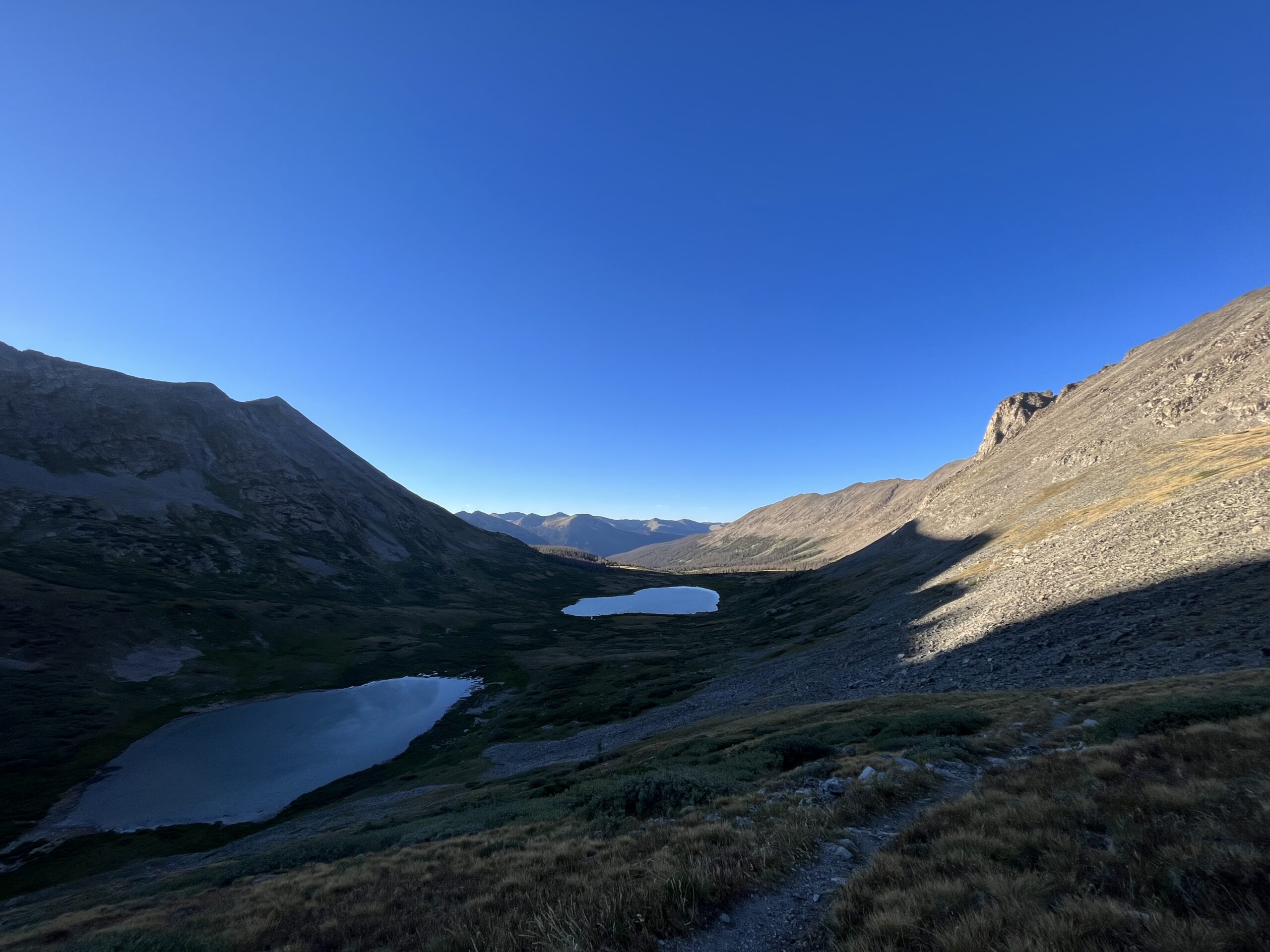 At some point I stop feeling scared and just enjoy the power ride Outside. In a strange way, that fallen tree gives me the kick I needed to wake up from a sluggish laziness.
Yet my urge to get out of the gray, dying woods forces my body to move, after the sun goes down, into the night, and turn on the headlight. A few pairs of eyes, but they're just bunnies hopping across the road.
I don't know where or when I shall stop, but at last I come to the reservoir of Lake Boss, and there is an inclined patch of rock under some very lively green little trees. I decided to call it.
In a strange way I enjoy the evening, as it was an unexpected experience. I marvel at how I got another ten miles when I didn't think I could take another step. I'm not sure whether to thank that tree or not. But now I will be very aware of the pitfalls as I set up camp.
Day 14 – 10 mi
When I go to do business this morning, I see two pairs of glowing eyes in the trees. They don't move. I decided I'd had enough of the thrill of the night hike and waited until sunrise to get started. I don't have much to do today anyway, and the weather should hold.
It is the final climb, and it is a short but steep climb. Even the official continental divide, or so my map says. I can't stop saying this, but it's so beautiful. I feel there is nothing I can do to give the proper amount of appreciation. Some of this will pass me by, it's not enough for me to swallow it all at once.

Then a long, gentle walk in the sky to the remote ski lifts. To end at Monarch Pass.

These mountains of sand, hard to imagine covered with snow. It's a desert here, I can't understand how these trees grow. I'm used to rainforests, where the air is always heavy with water.
I'm very tired. I got to the end of this section a day earlier than scheduled, so I'm going to get another zero tomorrow, and I'm all set for that.
I don't know if there are any amenities at the start of the highway, but I pray for the ice cream. Thank God, there is a small shop. It's a biscuit-and-cream milkshake, and I sipped it, and suddenly it's very cold.
I'm really glad I decided to do the Collegiate West alternative. It was very challenging, and it defied my fear of heights. But the beauty was worth it, going to places that can only be reached on foot, and which not many will get to see. I got lucky with the great weather, and that helped me too. I'm proud of myself for making it through when I thought it would be too much for me to handle.
However. There is a moment when I am on my way to the ski lifts, over the golden undulating grass, when I become aware again of the rest of my life, the rest of the world. There is a wave of angry tears, frustrated at the impossible task of finding my place in it all. Is this what I'm supposed to do? How does this help anything?
Small things are big here. Water, shelter, weather. Are they just welcome distractions from something more important that I should focus on? But what is it?
Sure, I can say I accomplished this, but what does that even mean?
I had a run-in with a guy stumbling across the road to pick up his resupply drops from a failed FKT attempt. He was trying to do the entire trip in 8 days, but the shin splints on day one shattered those dreams.
He dropped me off at Poncha Springs where a lovely woman went out of her way to take me the rest of the 5 miles to my lodge in Salida.
Coincidentally, I met a hiker from New Zealand walking the other way on Cottonwood Lane, also staying in the bunk room. We'll end up getting Mexican for dinner together.
She's just finished a solo travel trip of her own, and she has some great tips to offer about traveling to Mexico, which I appreciate. We think about the concept of a "journey", and what it means to find yourself stumbling across one of these journeys. how it can change you; It is unfortunate that our modern culture does not clearly lend itself to experiences of individual exclusivity. I see people crave something more, and have molded themselves to fit external expectations their entire lives. This includes myself. We do not know how to listen to ourselves. Or we started with it, but it's all muffled. These predictions don't make any sense. What is there beyond this?
I return to the crowded bunk room. Rest now.